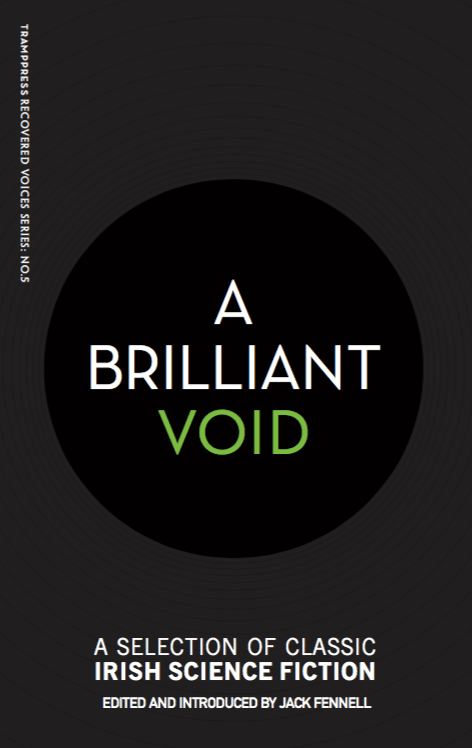 Yesterday I went to an event in Hodges Figgis based around A Brilliant Void, the anthology of Irish classic science fiction edited by Jack Fennell. Fennell himself was there, as were the authors Deirdre Sullivan and Ruth Frances Long and Dave Rudden (who chaired the panel). A Brilliant Void was commissioned by Tramp Press after the publication of Irish Science Fiction, Fennell's academic study of the genre here.
If I think of Irish science fiction I think of writers like Bob Shaw or C.S. Lewis (although Lewis is best-known for his Narnia books of children's fantasy, he did also write an odd SF trilogy involving trips to Mars and Venus and then an authoritarian takeover of Britain). More recently there are works by literary authors that dip into the SF world (e.g. Kevin Barry's The City of Bohane, set in a technologically regressed future, or Éilís ní Dhuibhne's The Bray House, in which a Swedish archaeologist travels to an Ireland devastated by a nuclear accident). There is also a host of young adult books which, as an old adult, I suspect are not for me. Overall though science fiction seems somewhat marginal to the Irish literary tradition, with the energy that might otherwise have gone into it instead ending up in gothic fiction or works based on Celtic mythology or Leprechaun folklore.
This book shows that bubbling under there was always a strain of Irish writing dealing with science fiction topics, albeit in stories that sometimes ended up being otherwise classified. Fennell reported that misclassification was particularly common with works by women writers. At an early stage in the book's gestation, it was decided to gender-balance the authors but apparently this was initially a real struggle as there just did not seem to be that many science fiction works written by Irish women. However on investigating works classified in other genres he was able to find so many works that in the end A Brilliant Void boasts more stories by women than by men. The tendency to classify science fiction books by Irish women as Celtic romances or similar may reflect a biased assumption that women cannot be into all that scientific stuff.
One question from the floor drew attention to the apparent greater frequency of SF writers coming from Northern Ireland. Long's response to this was interesting, as she suggested that post-independence the nation-building project pushed writers of non-realistic fiction towards material based on Celtic mythology. Our friends in the North faced no such strictures and could happily set their work in the future or on other planets. It may not be coincidence that Lewis and Shaw (at least in my limited exposure to his work) did not feel obliged to set their work in Ireland or to deal with Irish subjects. I also wonder though whether the greater industrialisation of the north-east might play a part here: if you live near where they built the Titanic it might be easier to imagine characters in your novel building rocket ships.
I have started reading the anthology and already in the first story I feel I have gained from attending the talk. William Maginn's 'The New Frankenstein' (1837) ends with the words "Then I awoke, and found it was – A DREAM', words which so often feel like the author has played a tiresome trick on the reader. However, Fennell had noted in the discussion that in the Irish poetic tradition of the 19th century dreams were not seen as imaginary but as portents, so the ending effectively doubles up the grimness by revealing to the narrator that he will most likely have to relive the terrible events of the story.
I am looking forward to reading the rest of the book. The stories are mostly from the 19th and early 20th century, with only three of the fifteen from after 1922 (all three of which are translations from Irish-language originals). Apart from Fitz-James O'Brien and George William Russell the authors are all unknown to me, though the panelist bigged up Dorothy MacArdle so much that I feel embarrassed not to recognise the name.
Readers might also be interested in the Short Guide to Irish Science Fiction that Jack Fennell has made available through the website of Dublin 2019, the World Science Fiction Convention that is next year coming to our city.
image source:
A Brilliant Void (Tramp Press)