I have also found myself exploring the world of live-streamed dramatic events. Two of these were presented by the theatre group Hermetic Arts at online conferences on folk horror and the rural gothic organised by the people behind The Folklore Podcast and Room 207 Press. The first of these was Carbury Gifts, in which a woman (played by Carrie Thompson (one half of Hermetic Arts)) talks to Zoom camera from the flat in which she is locked down, mentioning that she is from a place called Carbury, which has a gift shop, where things are a bit… odd. Sadly connectivity issues meant that I got the start of this but not the end, which is sad as the beginning was great and I would love to see how it played out. LATE BREAKING ME AM BRANE UPDATE: I had forgotten that I can actually look back on Carbury Gifts on a secret URL link – must actually do this sometime. I will tell you whether it remained as good as its beginning promised but will not pass on the secret URL.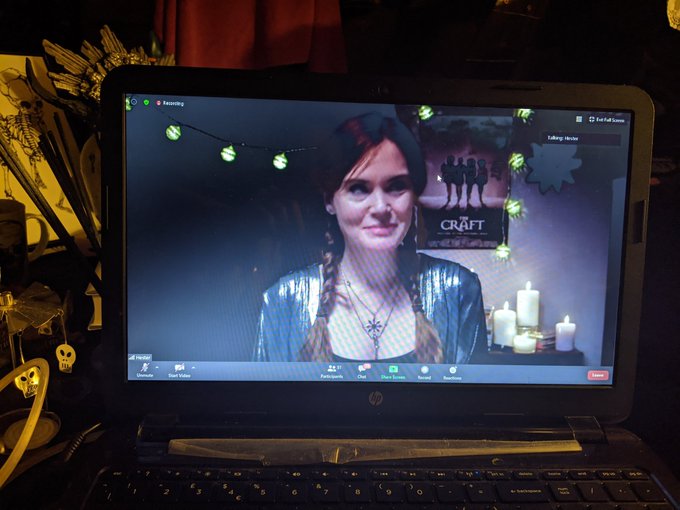 A later rural gothic event saw Hermetic Arts present A Spell at Home, with Hester. This again saw a woman (also played by Carrie Thompson) presenting to us over Zoom, this time the eponymous Hester, who is a new age Wiccan of the fluffy variety, supposedly leading us, her Wicca group, in a fluffy magic ritual. But while she is chatting to us she starts talking about her own life and how when she was a teenager her family moved back to where her mother was from, the small rural village of… Carbury. She tells a story of childhood scrapes that assumes an increasingly ominous tone before developing mysterious links to Carbury Gifts. This was all very spooky and delivered on the possibilities offered by streamed macabre theatre.

But in fairness I surely had already been assimilated into liking live spooky web theatre as I have been watching many performances by Robert Lloyd Parry. He is an actor fellow whose thing is performances or rehearsed readings of vintage horror short stories, most usually by M. R. James but on occasion by such writers as Saki, H. G. Wells, E. F. Benson, Sheridan Le Fanu, and Lucy Boston, among others. I've seen him do a good few now and I remain in awe of his ability to inhabit the characters of the stories he performs. His managements of the tonal shifts required by these stories, from situations of bumptious amusement to ones of macabre peril or uncanny dread are truly astonishing. Check out his schedule of upcoming events here; his Christmas Eve performance of M. R. James's "Count Magnus" has the potential to be particularly terrifying. Some previous performances can be seen on YouTube and on Facebook. Readers might also be interested in a book he has edited for Swan River Press, entitled Ghosts of the Chit-Chat, which contains stories that were read at M. R. James's ghost stories club as well as biographical notes on the club's leading members.
images:
A Spell at Home, with Hester (Lara-Rose (@OnTheArrow) on Twitter)
Robert Lloyd Parry (Nunkie Theatre: The M R  James Project)