With friends I have been in a group reading Watchmen, the popular comic by Alan Moore & Dave Gibbons. We have been reading it a chapter a month, to recreate the original experience of reading it issue by issue. While some of us have been re-reading Watchmen, others are reading it for the first time, and of these some are people with little or no experience of reading comics. This is my attempt at producing a list of comics that someone who liked Watchmen might want to have a look at if they wanted to further explore the world of graphic fiction.
These are not exactly my own favourite comics (there is no Marshal Law, Skreemer, Claremont-Byrne run of X-Men, Seaguy, Flaming Carrot or any of the comics I grew up reading in 2000 AD). Rather these are books that I think have the kind of crossover appeal that would make them interesting to someone who has not been reading comics for decades.
Batman: the Dark Knight Returns, by Frank Miller, Klaus Jansen & Lynn Varley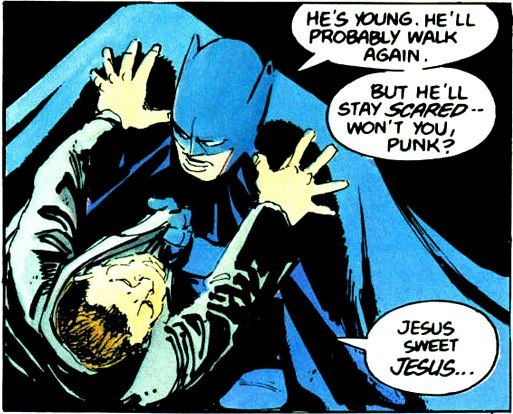 The story is about an old Bruce Wayne coming out of retirement to put on the Batsuit once more. And like Bagpuss, when Batman wakes up, all his friends wake up too, except Batman's friends are psychopaths like Two-Face and the Joker. It is an obvious companion piece to Watchmen, as it was published at more or less the same time and also features a revisionist take on superheroes. It also played a large part in making the Batman character interesting to grown-ups; without this book none of the Batman films that appeared since the late 1980s would have been made. It is however a very different book to Watchmen. They share a 1980s Cold War paranoia theme, but where Watchmen critiques the fascistic elements implicit in the superhero, The Dark Knight Returns embraces them.
Frank Miller has written and drawn a lot of comics and many of them are dreadful, though some of his Daredevil and Sin City comics might be worth your while.
From Hell, by Alan Moore and Eddie Campbell
This is Alan Moore's other masterpiece. but very different to Watchmen. Instead of the 1980s superhero costumes and clean lines of Dave Gibbons' art, here we find ourselves back in 1888, with Victorian London rendered in gloriously scratchy art by Eddie Campbell. The book is not for the faint-hearted, as it deals with the Whitechapel murders of that year and is largely told from the point of view of the murderer. For me a big part of its appeal lies in its exposition of Moore's strange occult ideas.
I myself have attempted to re-enact chapter 4 of From Hell (which does not feature any murders, I hasten to add).

Other Alan Moore titles that might be worth your while include Swamp Thing (various volumes of weird horror), Captain Britain (superhero stuff), Batman: the Killing Joke (problematic), & Superman: Whatever Happened to the Man of Tomorrow? (two brilliant Superman stories in one volume). Lots of people also like The League of Extraordinary Gentlemen (steampunk capers featuring every fictional character ever; I particularly recommend the second volume, a retelling of the War of the Worlds, and suggest not bothering with the rest). The Ballad of Halo Jones is a particularly impressive but hard to classify work. His non-comics novel Voice of the Fire is also a stunning piece of work.
Persepolis, by Marjane Satrapi

Memoir comics became a bit thing. This is Satrapi's memoir of her time growing up in Iran during the Islamic Revolution and then during her time outside the country, all drawn in a faux naive childlike style of blocky art with thick lines and large areas of black ink. One thing that is intriguing about this book is how unsparing Satrapi is about the more unsavoury aspects of her own past actions.
Maus, by Art Spiegelman

One narrative strange of this book tells the story of Spiegelman's father in the 1940s, a Polish Jew who found himself being herded first into a ghetto and then to Auschwitz. The other follows Spiegelman's difficult relationship with his father at the time he was writing the book in later 1980s. The title comes from the Jewish characters all being drawn as mice, with the Germans as cats and members of other nationalities being various other types of animal. As a Holocaust narrative Maus will always have readers but when I finally got round to reading it myself I was stunned by how good it is and how far removed from the worthy but dull tome I had expected.
Sandman: Preludes and Nocturnes, by Neil Gaiman, Sam Kieth, Mike Dringenberg and Malcolm Jones

Neil Gaiman made his name writing Sandman, the goth-friendly comic about Morpheus, Lord of the Dreamworld. It was big in the early 1990s and while I have not read it in years I remember it fondly for its cleverness, wry humour, and embrace of every strange mythological thing Gaiman could lay his hands on. Preludes and Nocturnes is the first book in the series; if you like it there are plenty more to follow.
Locas: The Girl from H.O.P.P.E.R.S., by Jaime Hernandez
Originally appearing in the pages of the magazine Love & Rockets, this comic tells the story of two Latina women in some American town, as they fall in love, play in punk bands and hang out with friends. The Girl from H.O.P.P.E.R.S. is the second book in the series but it is probably the best one to start with as the first is famously a bit hard to get into. FULL DISCLOSURE: I am not mad on comics by Jaime Hernandez myself but loads of people love them, so you might too.
Palomar & Luba: Heartbreak Soup, by Gilbert Hernandez

This also appeared originally in the magazine Love & Rockets. Where his brother's stories are set among the Latino community in the United States, Gilbert Hernandez deals with people who are still living in Central America, in this case the fictional backwater town of Palomar (though later volumes follow characters who have emigrated to Los Angeles). For me there is an incredible richness to the Palomar narrative and a depth of characterisation seldom seen in comics, like his brother's work very focussed on women characters, though not exclusively so. Heartbreak Soup is the first of the Palomar collections; if you like it then you will love Human Disastrophism, the second volume.
one of Joe Sacco's books
Joe Sacco has written and drawn a number of books of what are basically comics journalism, mostly focused on the Palestinian issue or the war of the early 1990s in the former Yugoslavia. All of his books are worth reading but I particularly recommend The Fixer, which deals with Neven, a fixer character he encountered in Sarajevo when he was researching his book Safe Area Gorazde. Neven is a larger than life character with a questionable relationship to the truth, someone who has both done astonishing things in the course of the war and a bullshitter who shamelessly exaggerates his exploits to impress the gullible.

FULL EMBARRASSING DISCLOSURE: I have never actually read a Joe Sacco book all the way through from cover to cover but I have greatly enjoyed skimming the various copies in Panda Mansions.
Hate: Hey Buddy!, by Peter Bagge
Hate is a comic telling the story of Buddy Bradley, a slacker in his early 20s who lives in a flat in Seattle in the early 1990s with his scuzzy friends. If you are or have ever lived a scuzzy young person lifestyle or know people who did then this will strike chords with you. It is funny but also interesting in its portrayal of the characters growing and maturing (though frankly the later volumes where Buddy is properly grown up and living a settled domestic life in New Jersey are a bit boring). It was also a bit zeitgeisty, portraying Seattle during the grunge boom. For me another thing to love about this comic is that the main character is clearly modelled on one of my old friends. Hey Buddy! is the first Hate book.
A comic by Daniel Clowes
Dan Clowes started off creating strips that appeared in Eightball and went on to write and draw comics that appeared in standalone books. He has a singular aesthetic often focussed on people who seem to be drained of emotion and hovering on the brink of a breakdown; if I am feeling depressed I often think of myself as having become an Eightball character. Ghostworld (adapted into a popular film) is probably his best known work though I have always found that one a bit dull. More interesting to me titles include Like A Velvet Glove Cast In Iron, The Death Ray, Ice Haven, Wilson, and David Boring.
Fun Home, by Alison Bechdel
The author looks back on her childhood and adolescence, during which time she comes out as a lesbian. Her father also kills himself and is revealed as a closeted homosexual involved in legally dubious relationships with underage boys. I have not actually read this book myself but it comes highly recommended and is always near the top of comic books I plan on reading in the near future.
Sweet Tooth: Out of the Deep Woods, by Jeff Lemire

This is set in a post-apocalyptic world, where a pandemic has decimated the world's population, with the few scattered survivors waiting for a second round of the disease to finish them off. And since the plague hit babies have started appearing with strange animal characteristics; the eponymous character (also known as Gus) has a set of antlers and deer-like hooves. Although he is a naïve child (and his naivety is mirrored by Lemire's art), his moral sense drives much of the story. The other main character is Jeppard, a morally ambiguous brute of a man who is one of comics' great creations. Out of the Deep Woods is the first book in the series.
So that is my list of comics I am recommending to people who have  read Watchmen and what to further explore the comics world. I am aware that the list of creators is a bit white Anglophone male, which reflects the comics I have been exposed to over the years. They are also mostly from quite a while ago, for similar reasons. I invite readers to recommend their own favourites in the comments.
image sources:
Batman and punk (DC Comics Database)
From Hell pentagram (Den of Geek: 13 Essential Horror Comics)
Marjane Satrapi and Michael Jackson (The Comics Reporter: Bart Beaty On Persepolis)
Maus (Comics Alliance: Examining Art Spiegelman's 'Maus')
Sandman (Bookworm the Hippie: Branching out to Graphic Novels)
The Girl from H.O.P.P.E.R.S. (Fantagraphics: The Girl from H.O.P.P.E.R.S.)
Heartbreak Soup (Fantagraphics: Heartbreak Soup)
The Screening, from Footnotes in Gaza (Art Threat: interview with Joe Sacco)
Buddy Bradley from Hate (Guasíbilis: Buddy Bradley en "Odio los sábados por la noche")
The man who could not digest ketchup, from Like A Velvet Glove Cast In Iron (The Slings and Arrows Graphic Novel Guide: Like A Velvet Glove Cast In Iron)
Panel from Fun Home (Fifty Books Project 2016: Fun Home)
Gus & Jeppard from Sweet Tooth (The Comics Journal – From Essex County to DC: The Transplanting of Jeff Lemire)