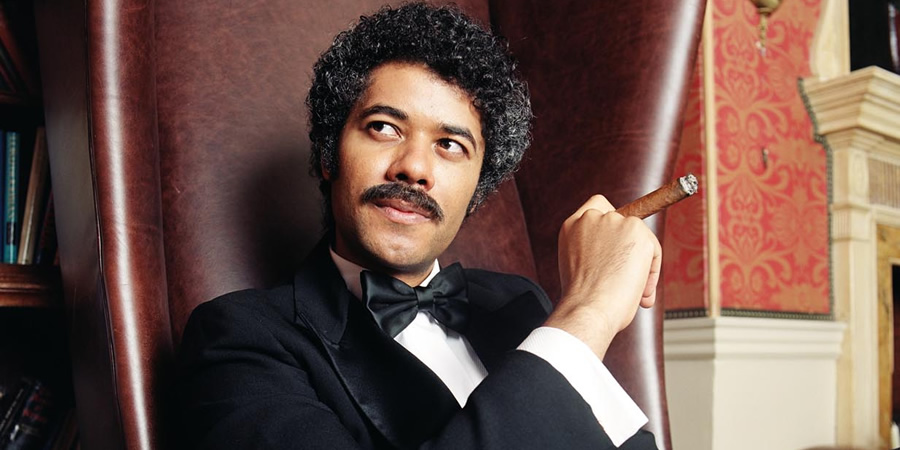 This is not a film but a TV series that I watched on DVD. It is basically a spin-off from Garth Marenghi's Darkplace, another TV series that only ran for one season, and features Richard Ayoade playing Dean Learner, a gentleman pornographer and shady businessman who is hosting a late night chat show from his luxury apartment. Each episode features a different guest, all played by Matthew Holness, with the guests being people who are part of Learner's business empire.
It is mostly pretty funny (the episodes where the guest is Steve Pising (pronounced pissing), former Formula 5 world racing champion, and Merriman Weir, alcoholic folk singer, particularly so). But it also has that comedy of awkwardness where it veers off into disturbing territory. You do get the sense over the various episodes that behind his comedic affability Learner is a pretty terrifying individual who is not above homicide (references are made to the unfortunate demise of a former wife and to the accident Pising was not meant to survive after he left Learner for another manager).
Particularly unsettling I think was the episode where the guest is Glynn Nimron, star of Galacticops, particularly now that gender identity stuff has become the great issue of our times; the denouement of the episode is I think more disturbing than funny. And there is a shocking cruelty to the episode with Randolph Caer, an actor whose career was destroyed after Leaner forced him to appear in the unsavoury murder flick Bitch Killer. Nevertheless, I feel that the edginess accentuates the comedy and gives the programme a depth it wouldn't have if it was joke-joke funny, so I recommend this highly to all readers.
image:
Dean Learner (Richard Ayoade) (British Comedy Guide: Man To Man With Dean Learner)