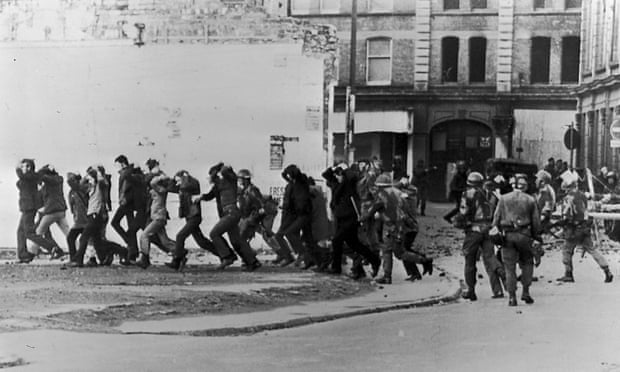 And this is another Bob Stanley and Pete Wiggs compilation for Ace Records. Ostensibly similar to State of the Union, this one looks at Britain in the early 1970s, when the wheels were coming off the post-war economic model that had delivered a long period of unprecedented growth. Britain now found itself gripped by strikes, inflation, slowing growth, power cuts and emerging political extremists on the right and left. And in one corner of the United Kingdom British soldiers were killing and dying in a messy conflict (whose bloodiest year was 1972, with 497 people losing their lives).

And yet, these songs largely ignore the contemporary situation, with a couple of exceptions. The lyrics of Hawkwind's 'Urban Guerrilla' evoke the activities of the Angry Brigade or pub bombing IRA units; unsurprisingly it was banned by the BBC. 'Part of the Union' by The Brothers (later a hit for The Strawbs, essentially the same band) refers to the union power that to some was bringing the country to ruin and to others empowering the country's workers. The lyrics are ambiguous, sung from the point of view of a proud union activist but seen often as satirical with their depiction of a union man who is always keen to down tools and go out on strike. Nevertheless, the rousing nature of the chorus and lines like "And I always get my way / If I strike for higher pay" make the song seem like a clear advertisement for industrial organisation.
Much of the rest of the album consists of glam-inflected stompers. I particularly like 'The Hertfordshire Rock' by Ricky Wilde, Marty Wilde's son and Kim Wilde's brother. He was only teeny tiny when this was recorded and here in Panda Mansions the track has been described as bearing the taint of Little Jimmy Osmond, but such thoughts smack of right-deviationism. This track is an objectively great disco stomper with hand claps, fuzzy guitar, and, yes I admit, squeaky vocals. It is made all the more enjoyable by Hertfordshire being one of England's lamer counties and it being hard to imagine anyone getting excited about Hertfordshire Rock.
Anyway there are loads of good tunes on this compilation and you owe it to yourself to track down a copy.
image sources:
British paratroopers arrest civil rights demonstrators (Guardian: How a protest about internment in Northern Ireland led to Bloody Sunday)
Three Day Week (Ace Records)