I wrote some pieces on 1943 publications for the Dublin Worldcon blog, as a guide to people who are nominating for the Retro Hugo awards, which will be awarded at the World Science Fiction Convention in Dublin this year. One of these posts included a discussion of 1943 comics. Comics are a visual medium but I did not include images there for fear of getting Worldcon into copyright trouble. I have no such fears regarding my own blog, so here is a discussion of 1943 comics, with added images.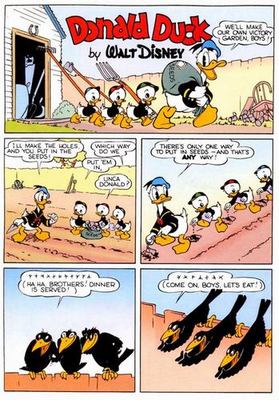 Comics have sometimes been a bit of a problem category for the Retro Hugos. Lots of people like comics and lots of comics were published in years eligible for Retro Hugo recognition, but many 1940s comics were extremely ephemeral, never reprinted and only read in more recent years by serious collectors. There are online databases containing scans of vintage comics now in the public domain, notably Comic Book Plus and the Digital Comic Museum, but they are a bit terrifying in the amount of material they offer. The Digital Comic Museum unfortunately does not have an obvious means of searching its database by year, but Comic Book Plus does at least allow readers to see comics published month by month in 1943. If readers start here they will see comics books whose precise 1943 cover date is unknown. Clicking on next brings up January 1943 comics, and so on. Comics here can be downloaded (after registering) or viewed online. So, trawling there might uncover comics worth nominating, but beware: many big comics of the era are still in copyright and are not included in Comic Book Plus (or indeed in the Digital Comics
Museum). Batman and Superman appeared in a variety of titles and formats in 1943 but neither of them are to be found in these datasets.
One comic that is not in either of those databases, presumably because it remains in copyright, is The Victory Garden, which appeared in Walt Disney's Comics and Stories #31. This sees a popular anthropomorphic duck's attempts to grow vegetables being thwarted by some greedy crows. The Victory Garden is noteworthy as the first Donald Duck comic drawn by Carl Barks. Carl Barks also gave us The Mummy's Ring (originally appearing in Four Color Comics #29) in which Donald and his nephews find themselves caught up in Egyptological adventures.
Wonder Woman and Plastic Man have appeared separately in two 1943 comics that have received some praise. Plastic Man and the Game of Death (by Jack Cole for Quality Comics) sees the stretchable superhero take on a death cult, Japanese spies (with the usual problematic stereotyping) and cowboys in a series of bizarre adventures. Meanwhile in Battle for Womanhood (by created by William Moulton Marston and Harry G. Peter for All-American Publications and appearing in Wonder Woman #5) Wonder Woman faces up against Dr. Psycho, who attempts to undermine the US
war effort by creating a spectral George Washington who warns against the employment of women in war industries. Dr. Psycho's motivation seems to be straightforward misogyny rather than axis-sympathies, with this villainous genius wanting to reverse the gains women have achieved in American society. Marva, his wife, is bound to him by his hypnotic powers and he is keen to reduce all women to a state of servitude, something Wonder Woman is keen to prevent (although she is briefly enslaved by Dr. Psycho herself). As befits Marston's feminist views, the story ends with Dr. Psycho's defeat and Marva freed to receive a message of female empowerment.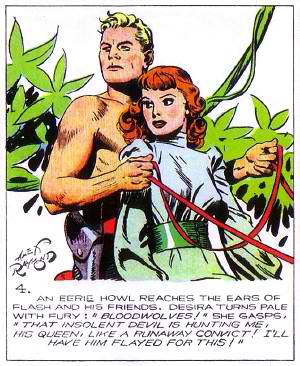 Newspaper strips were an important part of the comics firmament in 1943. The year saw the conclusion of the Flash Gordon series Fiery Desert of Mongo (by Alex Raymond for King Features Syndicate).
Two Buck Rogers strips concluded this year, Martians Invade Jupiter and Mechanical Bloodhound (both by Dick Calkins for National Newspaper Syndicate); these were subsequently collected as Volume 9 of the Buck Rogers In The 25th Century: Dailies.

The Brick Bradford newspaper strip On the Throne of Titania, created by Clarence Gray and William Ritt for the Central Press Association, finished its run of more than two years in 1943. Like Flash Gordon, Brick Bradford started life as a Buck Rogers knock-off before embarking on his own travels through both time and space, eventually becoming better known in Europe than in the USA. As well as the daily strips, Gray and Ritt also produced a weekly Brick Bradford strip for the Sunday newspapers, with The Men Of The North and Ultrasphere both finishing in 1943.

1943 also saw the conclusion of the Sunday newspaper strip John Carter of Mars, adapted by John Coleman Burroughs from his father's books and distributed by United Feature Syndicate. The strip was less successful than Rice Burroughs' novels and was sadly cancelled in midstream in March 1943; readers never did get to see Dak Kova's prize).

A more popular newspaper strip in 1943 was Prince Valiant, created by Hal Foster for King Features Syndicate. Readers may have encountered Fantagraphics' reprints of Prince Valiant, volume 4 of which includes stories from 1943. Little Orphan Annie (by Harold Gray, for Tribune Media Services) was also widely read.

In 1943 as now comics were not just being published in the Anglophone world. In Nazi-occupied Belgium, Hergé was writing Tintin comics, with Secret of the Unicorn published in book form by Casterman and its sequel Red Rackham's Treasure serialised in Le Soir. Unlike some other Tintin titles, neither of these deal particularly with science fictional or explicitly fantastic themes, yet there is a strange outlandishness to all of Tintin's adventures that could slide them into Hugo eligibility.
Another noteworthy Belgian comic of 1943 is Le Rayon U (translated much later into English as The U Ray) by Edgar P. Jacobs (more famous for his subsequent Blake & Mortimer comics). Le Rayon U appeared in the pages of Bravo and is a fantasy/science fiction tale in the Flash Gordon mould, which it was produced to replace, as the US entry into the war meant that Flash Gordon comics could no longer be imported into Europe.
image sources:
The Victory Garden (The Disney Wiki)
The Mummy's Ring (Pencil Ink)
Battle for Womanhood (The Wonders You Can Do: Doctor Psycho: One of Wonder Woman's Vilest Villains)
Flash Gordon & Desira (Black Gate: Blogging Alex Raymond's Flash Gordon, Part Nineteen – "Fiery Desert of Mongo")
Brick Bradford (Comic Art Fans)
John Carter of Mars, the final episode (The Daily Cartoonist: First and Last – John Carter of Mars Comic Strip)
Prince Valiant (The Comics Journal)
Tintin & co. land on an island (Tintin official site: Red Rackham's Treasure)
Le Rayon U (Cool French Comics)