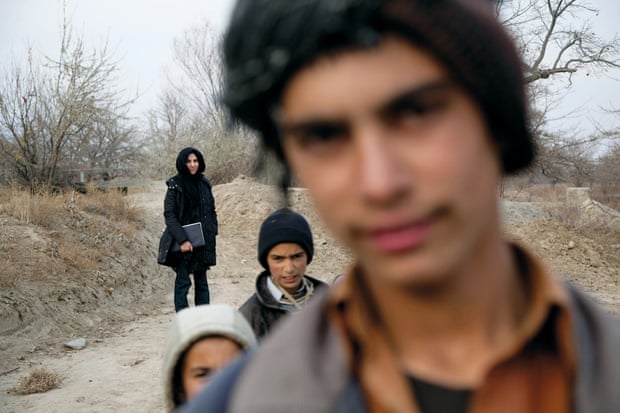 This a documentary film about PJ Harvey recording an album, though it might be more accurately described as an art film hung around PJ Harvey recording an album (said album turning out to be The Hope Six Demolition Project from 2016, indicating how long it takes to put this kind of film together). The film intercuts PJ Harvey and her buds (people like John Parish, Mick Harvey, Flood, James Johnston, Terry Edwards etc.) recording with scenes showing Harvey travelling around the world, ostensibly to gain inspiration for her songwriting.
I found the recording scenes fascinating, as the recording process was itself set up as an art project, with people able to come in and gawp at the musicians doing their stuff through a one-way mirror. The globe-trotting scenes were a bit more hit and miss. These saw the Peej heading off to Washington DC (which from memory is pretty obvious from the album, which does a lot of name-checking that city), but also to Afghanistan and Syria. The Washington stuff, which saw Harvey going to a black gospel church and hanging out with the youth seemed a bit too much like that bit in Rattle and Hum where Bongo goes all gospel; all that was really missing was a gospel version of some PJ Harvey classic like 'Down By The Water'. The stuff in more troubled parts of the world featured some genuinely funny moments (like the bit where a Kabul traffic cop loses it and starts kicking cars) and moments of fascinating musicality, notably Harvey attending what seems to be a Sufi mystical gathering where the music is oddly reminiscent of those chain-gang work-songs from the southern United States, but overall it felt like whitey holidaying in other people's misery, with an added disturbing fear that Harvey was going to go all Paul Simon and absorb the music of her Afghan pals into her new record. The scene with refugees trying to cross the border between Greece and the Country Formerly Known as the Former Yugoslav Republic of Macedonia is genuinely depressing but as Harvey was not even present there you have to wonder what it is doing in the film.
On balance therefore I rank this film as an embarrassing failure but would still recommend it to everyone who loves the music of PJ Harvey.

image source (Guardian)