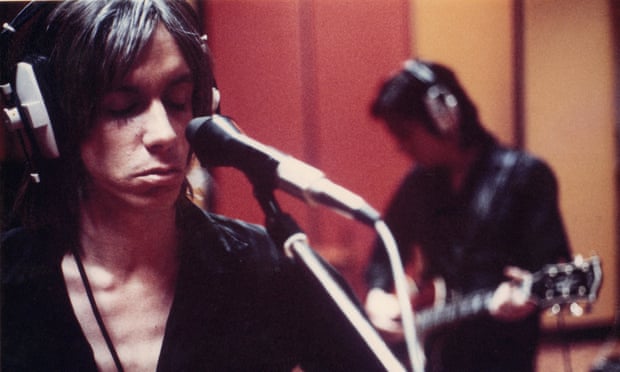 And now a review of a film from some time ago. Directed by Jim Jarmusch, this one deals with popular band The Stooges. It tells the story of their relatively short career through a combination of interviews and archival footage. Iggy Pop, their lead singer, proves to be a particularly engaging interviewee. The film takes an interesting approach, focussing more on the music than on the more colourful aspects of the band's behaviour (i.e. Mr Pop's tendency to pop out his lad on stage is barely mentioned, Ron Asheton's habit of wearing an SS uniform on stage is covered almost in passing and the band members' prodigious drøg habits receive scant attention). Some have criticised this, accusing the film of missing the point by adopting a reverential approach to the band. Perhaps so but the more garish aspects of The Stooges are so well known that focussing on them would have meant the film dwelled overly on material with which there is broad familiarity.
I suspect many readers know a lot more about the Stooges than I do, but I was surprised to learn that Mr Pop had a pre-Stooges musical career as a drummer, playing with various local blue bands and filling in onstage in other outfits. He says that one reason why he gave up drumming was that he got fed up of looking at singer's arses (though once said arse was that of Mary Weiss of the Shangri-Las, which he admits was not so bad). I was also struck by how his family background appeared to be relatively functional, while modest, and not the boo-hoo poor me broken home background of many other larger than life rock stars. Generally though his thoughtfulness and erudition was very striking, a world away from the cartoonish image he may have built for himself and acted out in his wilder years. He was also strikingly generous with regard to the contribution to the Stooges' success of the other band members and also other bands, notably the MC5, though he was dismissive of much of the music of the late 1960s, which he saw as bullshit attempts by The Man to co-opt youth culture and head off revolt (political and aesthetic), with Crosby, Stills and Nash particular offenders here.
Some odd features of the film were its decision to merely hint at some big issues in the Stooges history, such as the reshuffle on the third album that saw Ron Asheton moved to bass and James Williamson recruited to play guitar. Iggy Pop just describes this baldly as having happened with no explanation, though I understand from my colleague Mr W— that there were Issues behind this change. The film also hints without stating directly that said third album, Raw Power, is the duff one. I cannot judge this myself, not having heard it, but I think its being credited to Iggy and the Stooges rather than The Stooges is a warning sign, as its tendency to appear in new remastered and remixed editions every couple of years. [People have since claimed to me that actually Raw Power is the best Stooges album, but they would say that.]
I was also interested by the detail that it was the film Velvet Goldmine that provided the impetus for the reformation of the Stooges back whenever they reformed. Mike Watt put together a band to play Stooges songs in the film, which featured Ewan McGregor as an analogue of Iggy Pop, and this somehow morphed into a touring band for Iggy Pop with Mike Watt then encouraging the reformation of what was left of the original Stooges. Fascinating. That James Williamson (now a retired Silicon Valley executive) was recruited once more to replace Ron Asheton when the latter died was both an amusing and poignantly ironic twist of fate.
The other thing I learned about the Stooge more from people talking about the film than the film itself is that ladies love Iggy Pop. I mean, I had always had the idea that he had more muffs than I've had hot dinners (and I've had a lot of hot dinners) but I reckoned that was in the general sense that music performers often find that their musical prowess opens romantic doors. But no, it seems that women really like Iggy Pop, with it apparently being quite common for ladies to dress up when going to see this film in the cinema, on the basis that you need to look your best for Iggy. God bless him.

image source (Guardian: Gimme Danger review – Jim Jarmusch plugs into Iggy Pop's raw power)