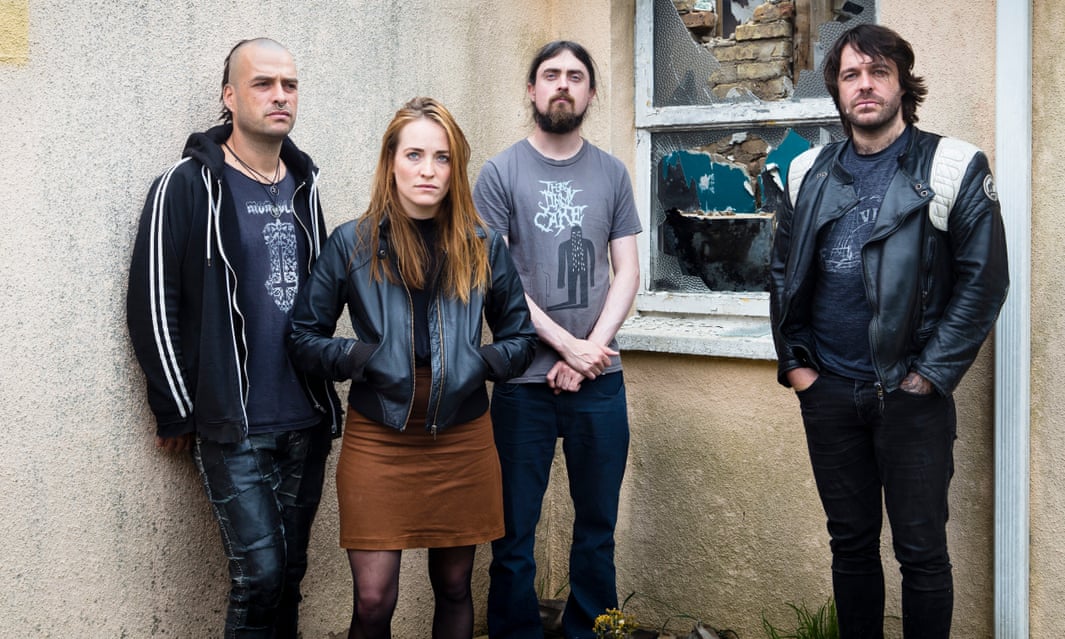 Back before Christmas in the Beforetime I went to see Lankum playing in Vicar Street. But who are Lankum? Well they are a bunch of Dublin folkie-tradders from Foxrock who developed their love of music while studying at Blackrock College and Muckross (true fact). Two of them are brothers whose surname is Lynch, so for a while they traded under the name Lynched before realising that this might make it difficult to get gigs in the United States. So they changed their name to Lankum, a reference to 'False Lankum', a version of the 'Cruel Lincoln' / 'Long Lankin' murder ballad. I have been hearing about how good they are for years but it was only recently when Radie Peat of the band appeared on John Kelly's Mystery Train to talk a good musical game and one of their tunes cropped up elsewhere and sounded like my kind of thing that I decided to take the leap and investigate them. I lassoed some pals to share a table at this concert and bought their most recent album (Beneath the Earth and the Sky)beforehand to gain some sense of their recorded work. Thus fortified I arrived at Vicar Street.
There are four members of Lankun, two Lynches and two non-Lynches, of whom one is part of the Dermody musical clan and the other is Ms Peat. The music is quite droney, much of it coming from Peat's harmonium and concertina but also from one of the Lynches playing uilleann pipes. The tunes are mostly trad arrs but there are a couple of more recent tunes by other people and even some by Lankum themselves. Radie Peat maybe sings most of the songs; she is impressive and hearing her reminds me of how unusual it is to hear Dublin working class women sing in their own accent, which is particularly strong on 'What Will We Do When We Have No Money?', the album's opener. However what might be the most striking tune is sung by one of the blokes, this being 'The Turkish Reveille', the one about the captain who promises a sailor all kind of things to sink an enemy ship before betraying the sailor and leaving him to drown. The piece is very evocative of the horror of finding yourself stuck out in the middle of the ocean, with the drones and the repeated lyric about lonely lonesome water building a general sense of watery doom.

Anyway, that's Lankum for you. They are worth investigating both live and on record. Aside from having good music on it, their
Beneath the Earth and Sky
record is also conceptually interesting, as it was recorded (Albini-style) by Julie McLarnon at the Analogue Catalogue studio, where they only use analogue kit. To some that might seem like the very embodiment of rockism but it is an interesting constraint and I think the approach benefits music of this type (for all that I have only listened to it on digital media).
image source:
Lankum (Guardian – Lankum: Between the Earth and Sky review)