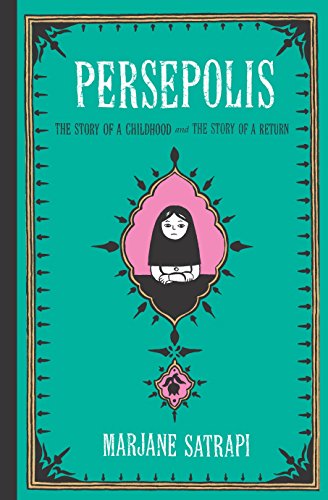 I asked on Facebook and Twitter for recommendations of comics by women and/or with female protagonists that I could give to my teenage niece, with my initial request specifying things that are a bit like Persepolis (Marjane Satrapi's memoir of her growing up in revolutionary Iran) but not actually Persepolis, as teenage niece's mother (my sister) already has a copy of that. I also said I'd rather not go down the superhero road. One person came back to me on Twitter, loads did on Facebook.
Two people recommended lists others had combined of female centred graphic novels, both of which have lots of interesting things:
VPL – Female Centred Graphic Novels
"I want to read all of these"
A Mighty Girl
"Check out reading lists on A Mighty Girl website, they are divided by age and then genre."
Here are the recommended books, more or less in the order they were recommended:
Blue is the Warmest Colour, by Julie Maroh
"perhaps not appropriate"
I have not read this myself though I understand it to be well-regarded.
Diary of a Teenage Girl, by Phoebe Gloeckner
Even the people who like it suggest that this might be bit grim.
Irmina, by Barbara Yelin
I had not previously heard of this one though the account of a young German woman's romantic with a Black Englishman in Oxford before the Second World War sounded intriguing.
Fun Home, by Alison Bechdel
"+1 for 'fun home' if she wants a primer on post modernism."
Bechdel's memoir of her own coming of age as a lesbian and her father, a closeted homosexual whose life ended in suicide. Always near the top of my own list of comic books I want to read in the near future.
Dotter of her Father's Eyes by Bryan Talbot & Mary Talbot
"brilliant, albeit a bit sad"
Both a biographical account of Lucia Joyce and Mary Talbot's memoir of her childhood as daughter of Joycean scholar
Sally Heathcote, Suffragette, by Bryan Talbot & Mary Talbot
A fictional account of the struggle for women's votes.
The Red Virgin and the Vision of Utopia, by Bryan Talbot & Mary Talbot
A biography of Louise Michel, French revolutionary feminist
Red Rosa, by Kate Evans
A biography of Rosa Luxembourg, German Marxist revolutionary
Tale of One Bad Rat by Bryan Talbot
Possibly a bit grim
something by Kate Beaton
I am unfamiliar with the work of Ms Beaton though I have heard she did a strip about the Frankin Voyage.
The Ballad of Halo Jones, by Alan Moore and Ian Gibson
Neither of the creators of this book are women but most of the characters are. One of my own favourite comics from when I was growing up though I'm not sure how entry-level it is.
Marzi, by Marzena Sowa
"A memoir of childhood in 1980's Poland. Real, but not too grim"
Papergirls, by Bryan K Vaughn & Cliff Chiang
I am unfamiliar with this book, though Vaughn wrote Y: The Last Man, one of my favourite comics from back when I was reading comics.
Embroideries, by Marjane Satrapi
"brilliant – but possibly for older teenagers"
Bitch Planet by Kelly Sue De Connick, Valentine De Landro & Robert Wilson IV
"a bit like a dystopian SF Orange Is The New Black. Definitely one for older teens though!"
Monstress, by Marjorie Liu & Sana Takeda
"Not quite similar to Persepolis but I'd recommend Monstress , predominantly female characters with female artist and writer."; "Brilliant stuff, but lots of hitting!"
I am unfamiliar with this work myself but its publisher's blurb gives the impression that it is fantasy asian steampunk.
Jem and the Holograms, by Kelly Thompson & Sophie Campbell
"strong female characters, a it's not "victory by punching", but there are same-sex relationships in it if that's an issue…"
Love & Rockets: Locas, by Jaime Hernandez
"Can't go wrong with Love & Rockets either. Locas is my favourite comic of all time and the collected editions are easy to get hold of. Perhaps best starting with book 2 as he'd yet to hit his stride and work out what it was all about in the first one, fun as it is."
I myself have never warmed to the work of Jaime Hernandez though so many people love it that clearly I am the one at fault here; I greatly prefer the L&R comics by his brother, Gilberto, but I think they might not be so entry-level.
Blue Monday, by Chynna Clugston Flores
"may not fit your criteria exactly. Definitely worth checking out, even if for yourself."
My Favorite Thing Is Monsters, by Emil Ferris
"+1 for 'my favourite thing is monsters' if she wants the best comic book of the last few years- it's incredible."
Poppies of Iraq, by Brigitte Findakly
Rolling Blackouts, by Sarah Gladden
The Unbeatable Squirrel Girl, by Ryan North & Erica Henderson
"have heard good things about Squirrel Girl, but male author and kind of superheroey"
Whiteout, by Greg Rucka and Steve Lieber
"Whiteout is great. Male writer & artist but female lead. Good"
El Deafo, by Cece Bell
Ghosts, by Raina Telgemeier
The Nameless City, by Faith Erin Hicks
Lumberjanes, by Shannon Watters, Grace Ellis, Brooke A. Allen and Noelle Stevenson
"I have heard good things about Lumberjanes"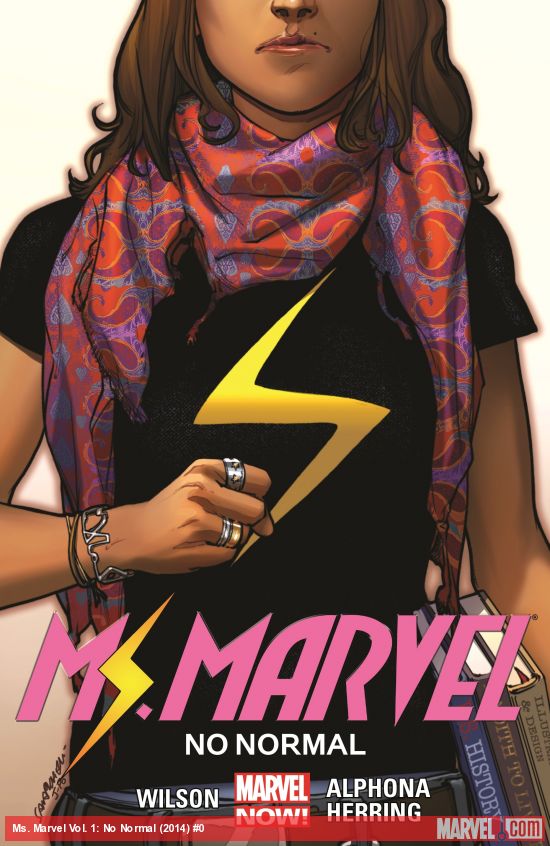 Ms Marvel, by G. Willow Wilson and Adrian Alphona
"most of the ridiculousness comes from being a teenage Muslim girl in the US rather than a superhero as such. "
image sources:
Persepolis cover (AbeBooks.com)
Halo Jones (Tygertale, a blog about brilliant childrens' books)
Love and Rockets #31 (Wikipedia)
Ms Marvel: No Normal (Marvel Comics)